Applying for Social Security Disability During the Coronavirus Pandemic
Finally, some good news! Even while local Social Security offices are closed to the public to protect against the spread of coronavirus, you can still apply for Social Security disability benefits online.
At the time of this posting all local Social Security offices are closed to the public, including the Gainesville, Georgia location on Thompson Bridge Road. Fortunately, if you have access to the Internet, you can apply for Social Security disability benefits from home. Below are instructions on how to apply and what information to have on hand when you start your online application.
Prepare your information. Before you sit down to apply, you should have names, phone numbers and addresses for the physicians and hospitals you have treated with for the past three years. Also, have your medications handy so that you can list them. Finally, please note that the Social Security Administration is interested in the type of work you have done for the past 15 years.

Logon to the Social Security Disability web page.

Go to www.ssa.gov and click "Disability". Then click "Apply for Disability" to begin your application.
IMPORTANT NOTE: The application process usually takes one to two hours, but you can save your application and start and stop as needed. Early in the process, you will get a "Re-entry Number" and you will need to either write it down or the print the page with the number.
Complete all four of the steps in the application process as follows:

Provide background information.

Provide disability information.

Sign a medical release.

Confirm your application is accurate after you complete it.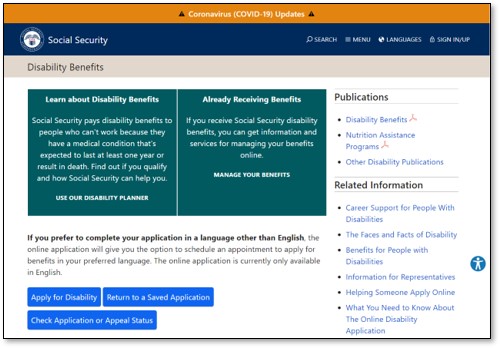 And as always, our staff and the disability attorneys at Stow Garvin & Glenn are here to help. So please call if you need us. (770) 534-5265.
Nancy Glenn, Managing Partner